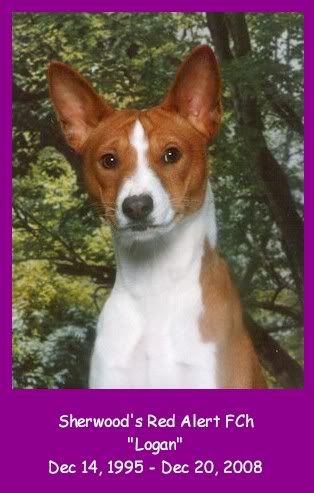 Logan was from my second litter. From the time he was up on his feet toddling about I knew there was something special about him. By the time he was 5 weeks old, I knew he wasn't going anywhere. He was my dog and I was his human. I kept Logan and his brother Baron. The two boys had an amazing relationship. Baron was the alpha who ruled with a velvet paw and Logan was content with the arrangement. There was never a quarrelsome word between the two, ever. Both boys enjoyed their time on the lure coursing field, Logan in the shadow of Baron's achievements. Logan took to obedience training very well and I regret that I never tried to title him. He would have done well. Logan was the world's most perfect Basenji. He was born a good boy and never changed.
Logan was always healthy so it was shocking when a routine blood test during the summer revealed that he was in the beginning stages of kidney failure. The illness progressed though no one would have been able to tell. He did not look like a seriously ill 12 1/2 year old dog. He did not exhibit any physical signs either, not until a couple of weeks ago anyway. Were it not for the routine senior blood panel, I would not have known anything was wrong. Knowing what was coming up helped me to prepare but no matter how one thinks they are ready, saying the final goodbye is never easy. I held on to him as the vet administered the final shot. He passed away in a matter of seconds. It was peaceful for him. It was the right thing to do.
Baron, Pippin, Bindi, and Jozie are confused. I do not know if they understand why he is absent or not. Things just aren't the same tonight. This is the first time in about 16 years that I have had less than 5 dogs. It just doesn't feel right.
Goodbye my Boo Boo Love Bug. Though you are no longer in my life, you will always be in my heart.
last edited by