Hello there.
I just subscribed a day ago, as I wanted to get access to advice from people who own Basenjis, and noticed there is a section for introducing oneself and the Basenjis.
My name is Rodrigo, I am from Monterrey, Mexico. I own two Basenjis. Fezzan (3 years old) and Mara (2 years old). I got Fezzan two-and-a-half years ago, when I moved back to Mexico after having spent 5 years in the US (Boston and New York). He was 6 months old then. I got Mara a year later. Here are some pictures of them.
It was quite a challenge getting a Basenji in Mexico, but I managed (thank you internet).
I discovered the Basenji when I was 10, reading a book about ?dogs of the world?. Instead of an actual picture, the book portrayed a hand-drawn Basenji and described it as a ?barkless dog from Africa?. I was intrigued by the dog and felt that I would never get to see one (unless I went to Africa). When I moved back to Mexico and decided to search for a dog, my father took out all of his dogs books to help me find a breed and there it was, the ?dogs of the world? book. I saw the Basenji drawing again and right there I knew that that would be the dog I was going to get, and so I did.
They are quite special dogs; a very peculiar breed. I know have a blast watching them play around. It's a pity they can?t be walked without a leash.
Looking forward to learning more about these great dogs.
Best,
Rodrigo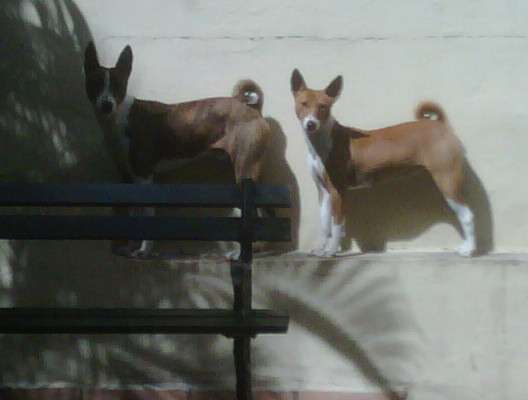 last edited by