Hi, My name is Sarah. My husband Alan and I are American expatriates who live on the Caribbean coast of Costa Rica. We just purchased male and female Basenji pups from the only breeder in Costa Rica.
I was so glad to find this forum as I have never owned Basenjis before. But, I can tell I am going to love love love these dogs.
This picture was taken when they first came home with us, about ten days ago. They are four months old. The tri-color is the female, named Bibi, African for Lady, and the tan and white is the male, named Chacho, shortened Spanish for Muchacho, or friend.
They are very bright and it helps that I carry ity bity dried bits of cooked beef liver in my pocket. They are learning "Come!" and "Sit!" already. They are very happy in this hot and humid climate, but I know I am going to run into problems with the "Leave it!" command. Ours is a jungle environment and there will be lots of things they'd like to chase and kill. Any advice as to how to accomplish this command would be greatly appreciated.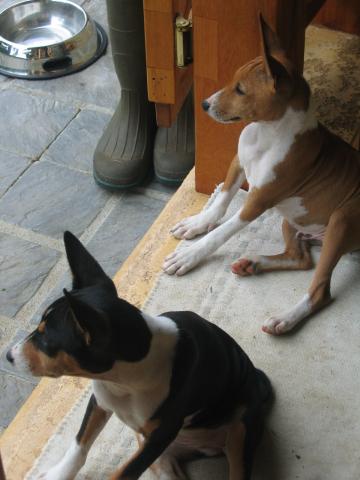 last edited by