I read the thread about larger Basenjis….
Now let's hear it for the petite pups in the bunch!!
My BRAT girl Tana is tiny (one of her nicknames is Tiny Tana)....She fluctuates between 14-15 pounds and she's a good 4-5 inches shorter than Jibini (who basically fits the standard).
Here's a picture that illustrates the size difference.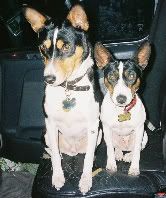 She's got such a fine framed build plus she's one of those who simply WON'T keep weight on her, either. She eats almost double the amount of food that Jibini eats (Taste of the Wild). Any less than that and she starts looking anorexic. For such a little dog, she's quick and she's tough! We joke that she's made of springs and rubber- and she bosses Jibini around with no problem when she needs to
last edited by