What a weekend here at Basenji Park. With the Harrisburg Dog show going on right down the road, it's a busy "Basenji" weekend.
It all started Thursday evening. This van pulls up, these two ladies get out and start setting up an xpen in my front yard.:eek: Sure enough they had basenjis and started filling up the xpen with brindle boy puppies.


The wife went out and told them the Park is closed and they weren't in the camping area anyway.:rolleyes: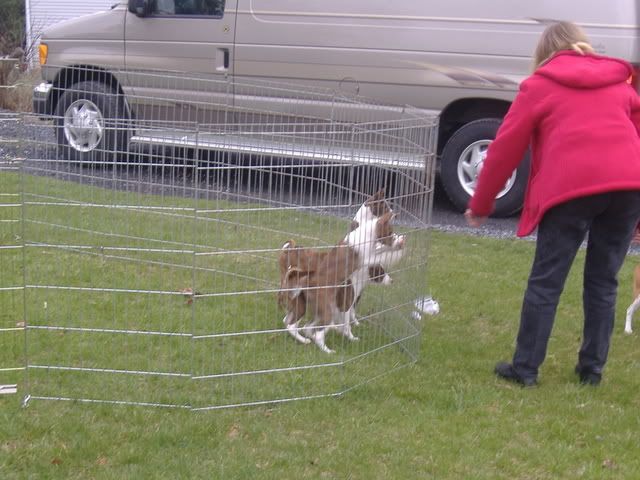 Wife had to point out some messy spots.
Me being the nice guy that I am decided to go ahead and open the park and let them entertain their basenjis.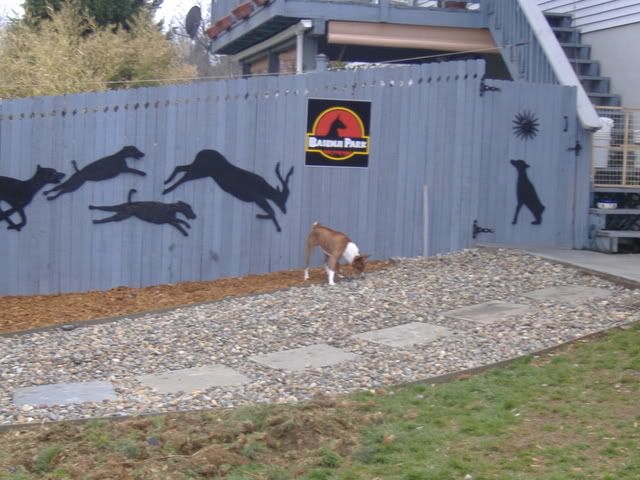 So we go over to their van, she opens the door, I look in and hear this wolverine sound coming from a crate. Must have been the look on my face, the lady said, "oh that's Ojo". Ojo?…....sounded more like, OhNO!:eek:
She told me he was just brought from Africa and was a year old.
Some video of Ojo and Donnie.
Ojo was cool, very friendly to people and was fun to watch. I threw him a frizzbie and he was so entertained with it, he carried it all over the place, head up high, all proud.:D
We talked these ladies into the "Optional" foxtailing for their dogs. Really get's them going.:D
This is video of Sydney and Shambay
Oh and the puppies, how can you not like a bunch of pups? I had to pick each one up for a smooch and a sniff.:D
Some puppy video.
Some really nice ladies, we enjoyed their visit.
Off to the dog shows! Friday we showed Willy to no avail, big inside show had him a little nervous.
Sat we meet up with our Kisa friends and wade up through the crowds to the ring.
That is some feat dragging all that stuff and five or six basenjis. Seemed like we walked a half mile.
We get to the ring and I spy Red&White Furever and she's chatting with JYS1011.:D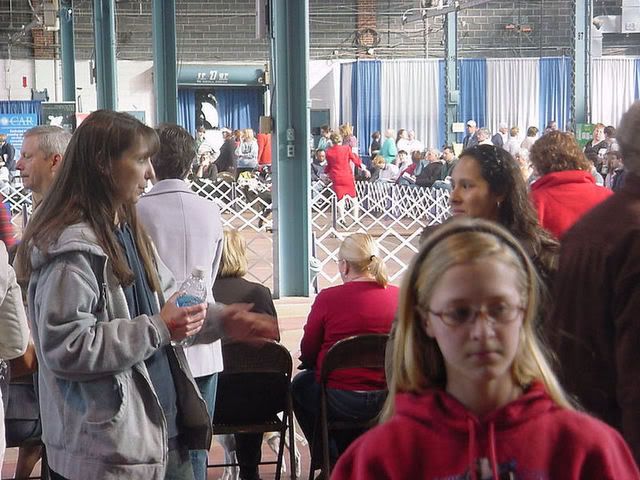 We put them right to work….here hold this dog. We all ran off for some coffee....funny stuff.:)
So the show started, and the action was on!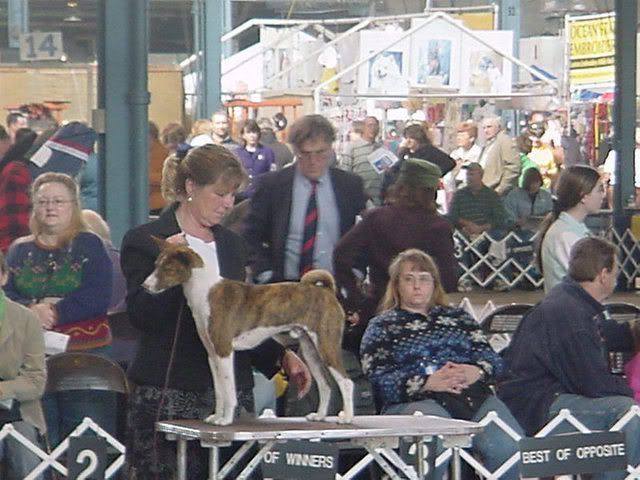 The crowd rose to a fever pitch as Jasper entered the ring.:rolleyes:
Some of the best dogs and handlers where in attendance.


Michael Work showing an Eldorado Basenji's dog.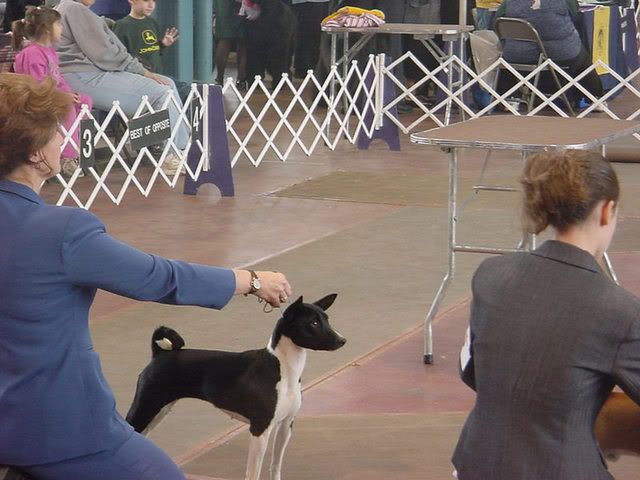 Kisa showing a clients dog.
Quite a show and some Barootiful Basenji's.
Gee, now we get to walk that half mile trek again. At least this time we have R&W and JYS to give us a helping hand. Everybody had a Basenji to walk…..but me, I had the cart.:mad:
I drag this thing the half mile gauntlet and we make it back to the motorhome. I go to my truck to get a water, I open the cap door and :eek: :eek: :eek: :eek: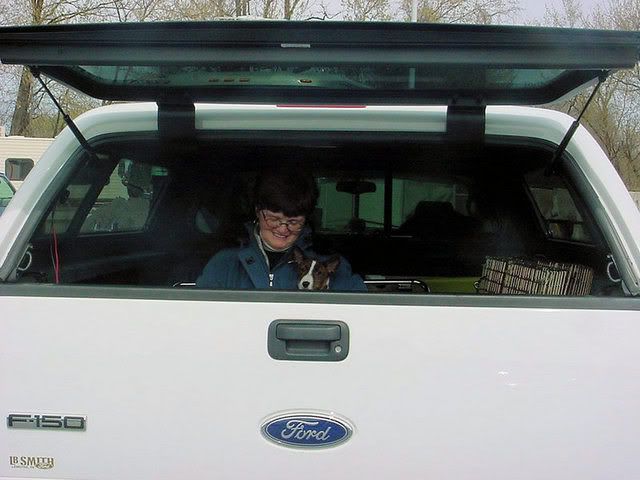 It's one of the Ladies from Thursday night!:eek: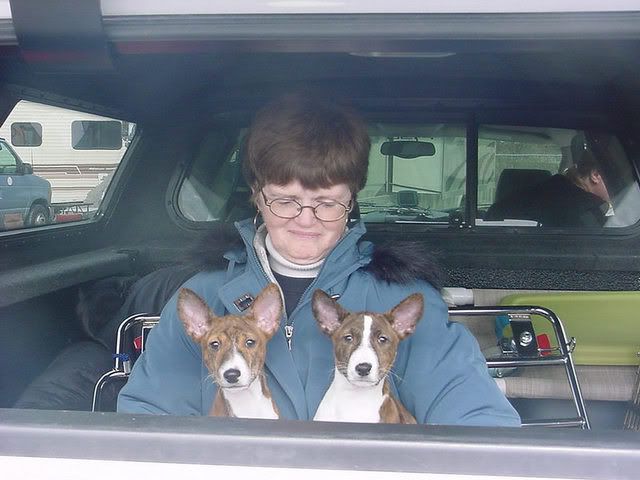 And those puppies!:D
We just loved them!


Everyone loves puppies!
Alright I'm kidding a little, but it was a curly tailed weekend to be sure. I enjoyed meeting up with and spending the day with JYS. I hope you enjoyed Basenji Park as much as we enjoyed having you.
Thank you for the show of support R&W and the helping hand….I'm sure you enjoyed the shopping.:rolleyes:
Thank you to our Kisa and Eldorado Basenji friends and Ojo for stopping by and spending some of the weekend with us.......and those wonderful puppies!
I hope you enjoyed the pictures, video and recap.
Greetings from Basenji Park.
last edited by