The Story of Basenji Forums
Back in the beginning of 2006 Alex and I decided to add a dog to our life. We already had a cat for a few years but we both really wanted a dog. We didn't live in a large home so we knew that we needed a small breed. After taking some time and really researching small dogs we came across a photo of a Basenji. We immediately started to read anything we could find about this breed and everything we read, positive and negative just made us want one even more. These dogs were really special, not like any other breed.
After doing some more research on the breed I contacted my vet who referred me to a Basenji breeder just a few blocks from us. We contacted her and she offered to allow us into her home to see a real Basenji!
We fell in love with the breed at the moment we saw her dog. We just knew that we wanted a Basenji, but we soon found out that no one in Northern California was breeding that year. We tracked down every breeder in California and surrounding areas and finally were referred to Khani's Basenjis in Portland Oregon. She was having a litter of pups that year and she put us on her waiting list. In December we flew to Portland to pick up our puppy who we named Leeno. Leeno was a red and white male who was the apple of our eye. A loving dog with a great temperament who loved to run around the house at sonic speed doing the b500.
A few months later we started to see that Leeno wasn't acting right. We took him to the vet because he had problems standing up straight. He would wobble and stagger. He couldn't climb stairs and would fall all the time. We nicknamed him Clumsy Leeno thinking he was just a puppy and hadn't grown into his puppy paws yet. The vet immediately diagnosed him with a neurological disorder and said that there was no hope. After hearing that, we immediately sought the advice of a veterinarian neuro-specialist in Berkley and it was confirmed that Leeno was ill and didn't have much time left.
We immediately contacted the breeder to inform her of the bad news. She told us that she would be in the area at a local show and would be willing to take him back. There was no way Alex and I could have watched our little puppy suffer anymore, yet we didn't have the heart to have him put to sleep. The breeder was offering to take him for us and when the time was right and maybe gives us another puppy.
During the time that Leeno was diagnosed with Cerebellum Ataxia, Alex and I searched all over the web for any information on this rare disease or any other clues related to Leenos condition. I would be up all hours of the night trying to find a cure or even just try to locate any type of information, but noone knew anything about this and trying to reference this to Basenji's, I had just no luck. That was when Alex and I decided that a forum needed to be created to where people could come together and ask for advice and help each other in an open forum format which was something that was not around at the time. Basenji Forums was then created and to our amazement it has taken off. With over a thousand members from all over the globe, you now have an abundant amount of resources, get to meet new people and most importantly have fun.
If many of you can think back to the beginning of Basenji Forums, we never formally introduced ourselves to the forum. I would post a few questions here and there but we never said anything. A few people knew about our situation and we really appreciated all the love and support.
In 2007 while watching Basenji Forums grow we became more and more anxious to have a Basenji of our own. Alex and I just couldn't wait till the litter was born. A year sure was a long time but when we received the news that we would soon have another puppy, we were really excited. This past January we were able to bring our little boy home. We named him Chance because this was a chance we were willing to take. His litter name is Flash, Khani's Viva La Rock. Chance just loves to run around, chase the cat, get into things and do all the other mischievous things that Basenjis do best. We are happy and blessed to have him in our lives.
Now it's 2008 and our community continues to grow daily and thanks to the encouragement from the forum members we have now added a second tri colored Basenji girl to our family. Her name is Kiya…
From Alex and Vanessa
Leeno 2006
Chance and Maddox 2007 (rare moments together)
Chance and Maddox 2007 (getting warm from the sun)
Chance and Kiya Bed Stories 2008 (learning to share)
[vm]1509470[/vm]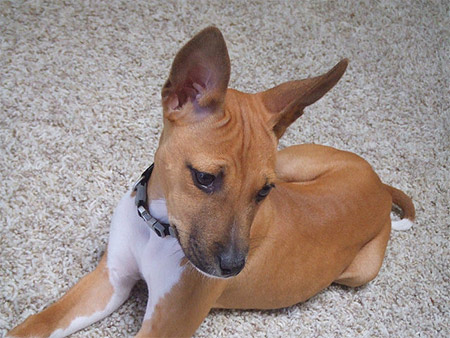 posted in Member Introductions