I can hardly believe it?s been a year since Cody and I adopted each other. Sometimes it feels as though he has been with me forever. We?ve had some rough patches, like dealing with separation anxiety or when he decided that his new favorite chew toy was my favorite pair of jeans (thank goodness for a good sense of humor and iron-on patches), and I?ve almost had a few heart attacks, like when he escaped and ran full speed down the middle of the road, but we?ve also had some great times that far outweigh the others. I love to watch as he runs the B500 so fast around the back yard that his tail straightens completely out. I was so excited the day he first initiated ?play? with me, and I never take it for granted when he does it now. No matter how bad my day has been, all he has to do is jump up to greet me (or smack me on the leg depending on his mood and how long I?ve been gone) and all is right with the world.
It?s been so much fun to watch him as he has discovered new things that he wasn?t exposed to in his previous home. I will never forget the first time I took him to the lake near our apartment. He wrinkled his brow as he watched the ducks swimming around near the edge of the lake, and then he took off after them, towing me behind him. He was about chest deep in water before he realized something was wrong and stopped. For just a second he looked around, completely shocked, like he was trying to figure out what had happened to the ground. Then he bolted out of the water and tried to get as far away as possible. He knows what a lake, river, ocean, etc is now, and when we are walking near a body of water, he maneuvers us so that I am between him and the water, lol! Sharing new experiences has been a great part of our journey together.
I was looking over the pictures I?ve taken of him over this past year, and it?s really amazing to see how much he?s changed, physically as well as emotionally. Here are a few of my favorites, most of which you may have already seen.
The car ride home

All clean, fed, and tired after our first day together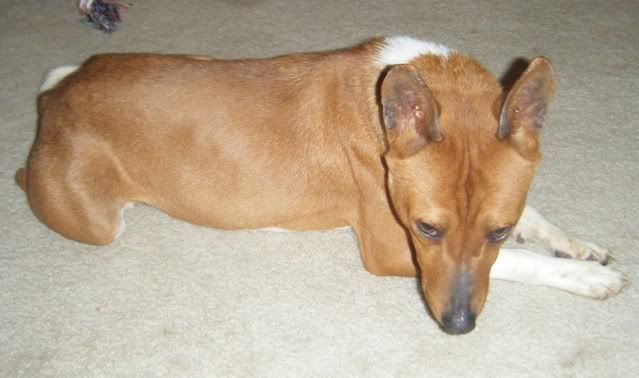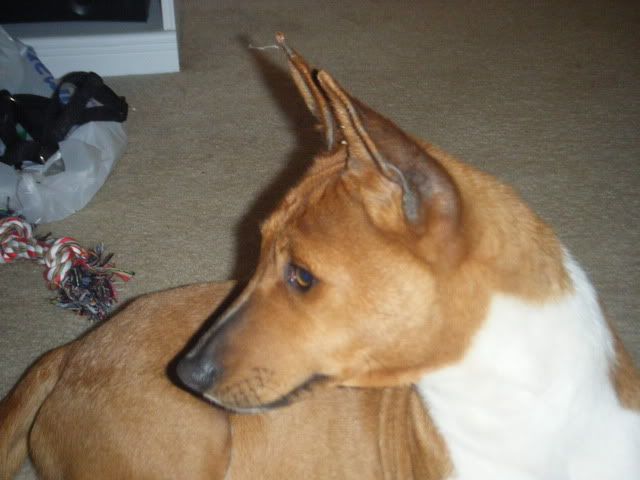 Cody and and his pup Remi cuddle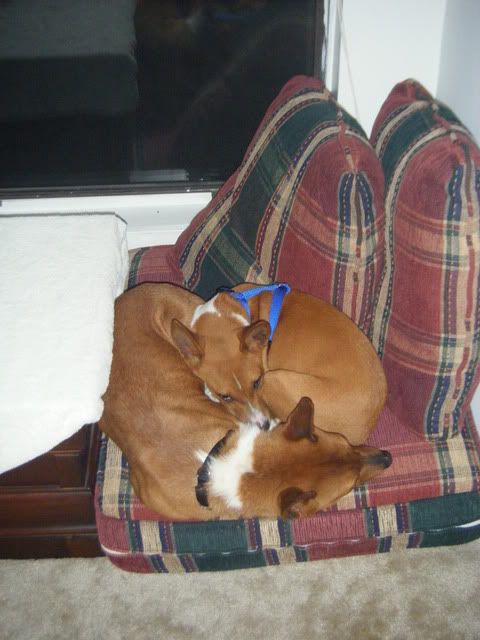 What? I didn't do it!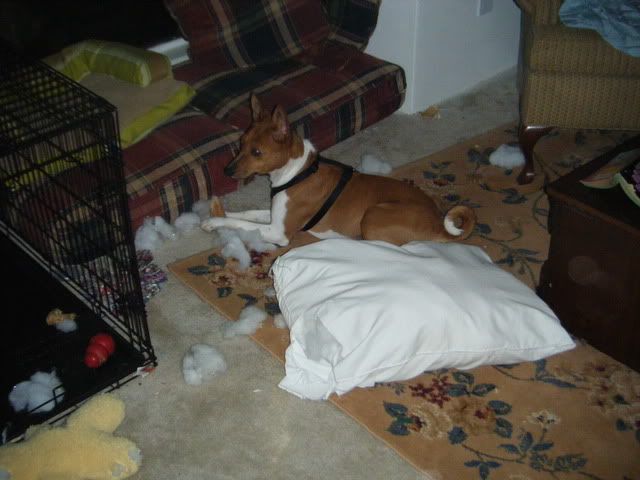 Basenji-fish!

He loves the beach (and would probably love it even more if I'd let him off leash to chase the seagulls)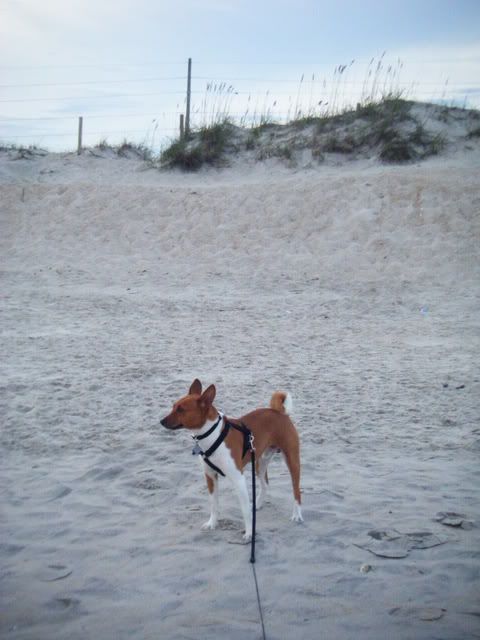 So very comfortable after rearranging the bed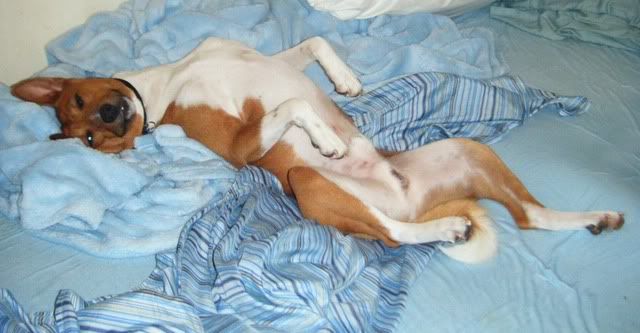 I don't want to come inside, but I don't want you to shut the door either!

Whacha doing?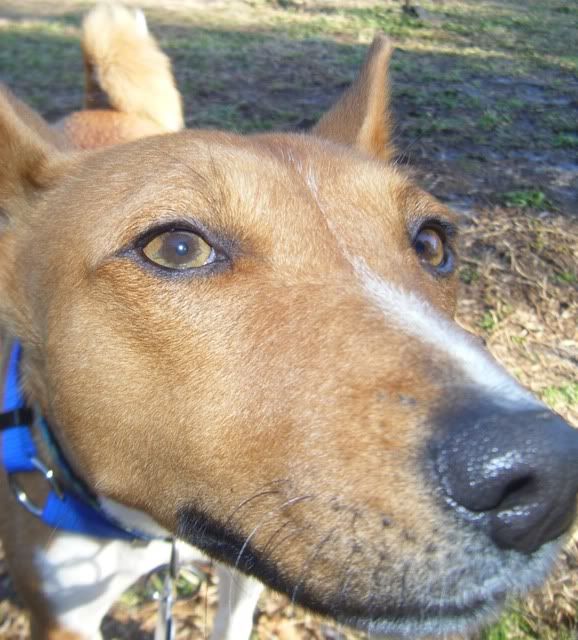 First snow!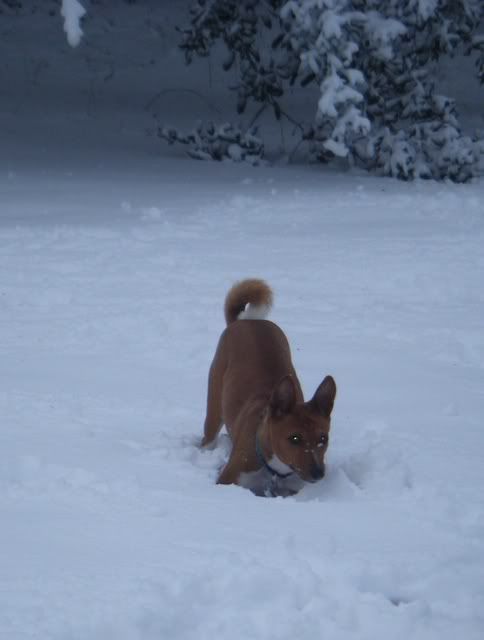 Today, sunbathing after "helping" me grill… he's exhausted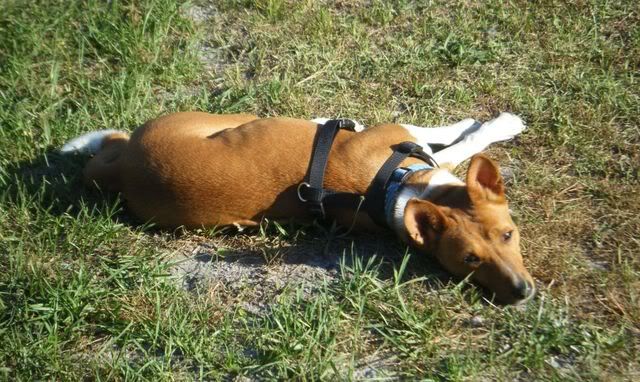 last edited by