So I was in Bologna, Italy for a while for an academic conference and film festival. Of course I was a little worried about and missing my dogs, since I'm home a lot and they're pretty used to always having me around.
While I was away, apparently the two dogs got to bond a bit, complete with a humping session in which Bowdu actually showed enough "interest" in Bowpi to communicate in dog language… in its most primal form, I suppose! Don't worry, both dogs are fixed. I take this as a good sign because Bowdu is usually pretty apathetic to her presence, but if he's humping her (and she was completely okay with it, I was told), at least they're establishing/reinforcing their relationship in this household, relative to each other.
And, this is kind of big... apparently, Bowpi finally decided, after three months, to sleep on the human bed. She'd had an open invitation before, but always refused in favor of sleeping by herself on the futon in my study room. Well, since I wasn't around, she went to seek out my boyfriend for human companionship, and discovered that the human bed is actually pretty comfy!
Bowpi sleeps very pleasantly on the bed, never raising a fuss, even if we push her around. This is in contrast to Bowdu, who likes the human bed but will usually flounce off with a disgusted snort/snarl and go to his own place at the foot of the human bed when the humans move and talk too much for his liking. Anyway, this seems to be working out for now, so we're holding off on getting her a bed of her own. We were told by her previous owner that she doesn't really like sleeping alone in a dog bed, preferring to share one with other dogs. I don't see Bowdu willing to share his bed anytime soon, but maybe if we get a larger bed for both of them, and maybe when the weather gets cooler, he'll oblige…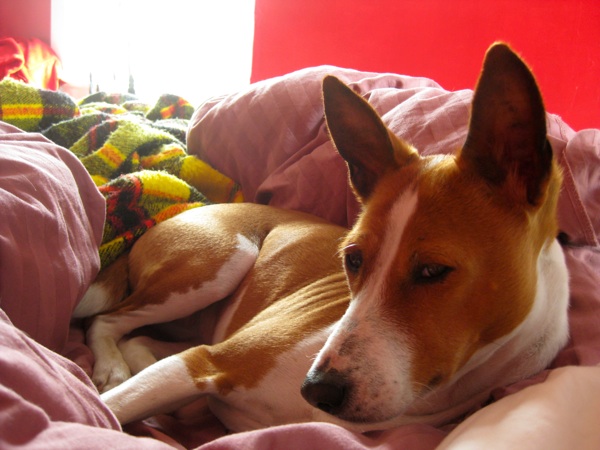 last edited by