I haven't shared much of my personal stuff with many people, but this weekend was so incredible I must tell everyone. I'll have to start at the beginning almost 21 years ago, when I became pregnant with my first daughter, Hilary. I had to make some very difficult decisions at the time. I could not remain with her father (for serious reasons of a personal nature) and chose not to terminate the pregnancy. I also knew I could not raise her myself. I found the absolute perfect mom who, with her husband, was desperate for a child and unable to conceive herself. The new mommy was very involved in the pregnancy, drove 200 miles each week to attend Lamaze classes and prenatal appointments with me, and was not only present at the birth of her new baby, but was my birth coach as well. She was awesome. (Still is…)
Anyway, years went by after Hilary went home with her new parents. I received a letter two years ago from her asking to get in touch. Our relationship has blossomed and I feel closer to her than I ever have to anyone. She tells me (some of) her secrets, asks my advice on occasion and (I like to think, anyway) listens to me when she asks a question. After we'd been in contact for a while, she expressed interest in finding her birth father and requested I help her with it. After doing some footwork, I sent a letter to a place I hoped still had folks hanging around who knew him. I waited....and waited....and.....waited..... Finally, almost a year to the day after I sent that letter, I received a phone call from him. He was so excited to find out he had a daughter he could barely speak on the phone with me. I could hear the emotion in his voice as he described how he read my letter, looked at the photo I had included of her and then showed everyone what I had sent him. I immediately texted her with the news and his information. She called him, then right away reported to me how "jazzed" she was about talking with him. The three of us agreed we should get together, but without concrete plans as to how to accomplish this.
Three weeks ago, he called and said another daughter of his he hadn't seen in over 30 years had also contacted him and was going to be out "toward the end of March" and could I please ask Hilary to be there and, oh, by the way, would I please attend as well. I made the necessary phone calls with information to all persons involved and made arrangements for my own presence. This weekend, at the age of 20, Hilary met her father for the first time along with an uncle, a sister, and a brother, as well as a (sort of) adopted Auntie. We went to a local entertainment venue, where the main singer dedicated a song to the family: Right Where I Need to Be by Garry Allan. I stood by with tears running shamelessly down my face as she, her brother and her sister danced together to "their" song.
It was absolutely phenomenal to be a witness to her getting to know her dad, dancing and clowning with her brother and bonding so tight with her sister you couldn't tell where one stopped and the other started. For me personally, it was painful/cathartic, like opening a wound and cleaning it out so it can at last heal properly. I had some extremely high obstacles to overcome with regard to the history I share with her dad. He and I are good friends now and plan on staying in touch. However, that is a brief and minor side note to what I watched this weekend.
For Hilary, she described it as finally coming home.
In the pictures are Hilary, her dad "Apache," me, sister Trish, brother John and Uncle Eddie receiving a marriage proposal from Auntie Pamela. And a couple of pictures with AJ....
Enjoy: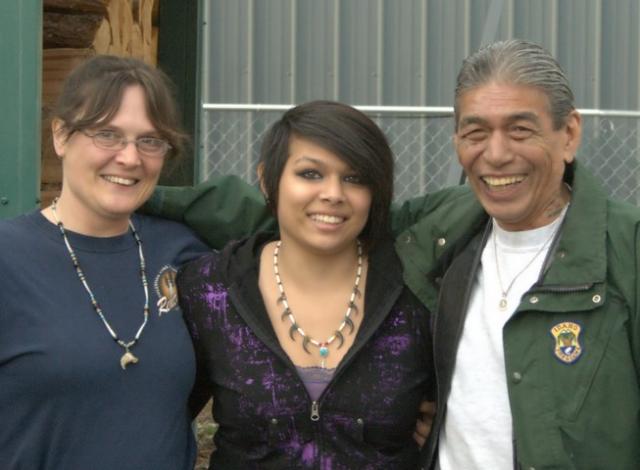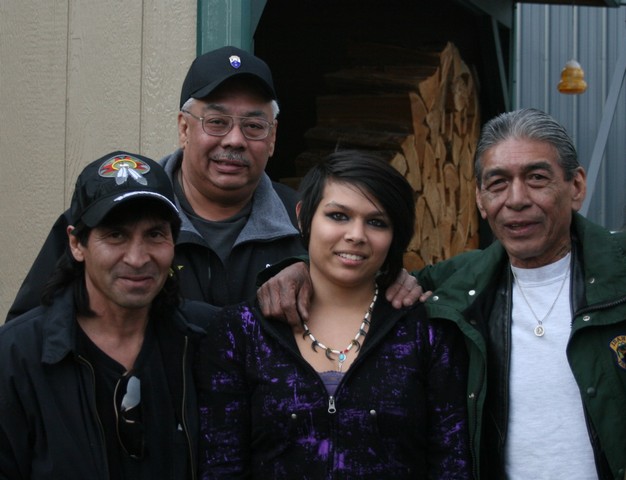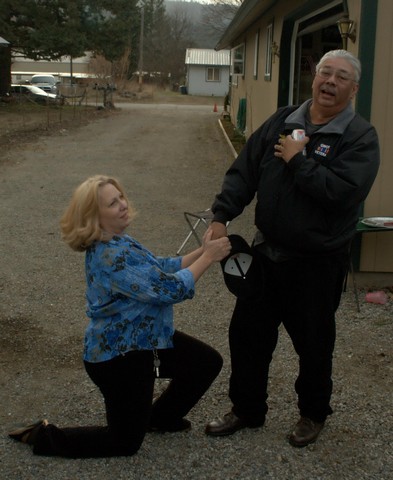 last edited by