I just adopted this dog 3 days ago from a shelter here in SF. He was picked up at kill shelter in Merced County, a rural farming county in the central valley.
I picked him because he is part herding dog, probably border collie, and I wanted a smart active dog, one i could run with and teach tricks. I have been trying to explain his ears. I saw Basenji ears and started reading and recognizing simmilarites….his tail is no guide. At some point someone docked it.
Basenji-like traits Ive noticed in my new dog:
1. Within three hours of being at my house he escaped out two windows. Ive caught him climbing over a large baby gate and watched him figure out the weakness in an iron fence and almost get through it. I have also had to tighten his collar a couple times because he has gotten out it. He is an escape artist.
2. This is the strangest one. He habitually gets up on his hind legs. Whether he hears someone upstairs, or if I am across the room and make noise with a paper bag, he gets up on his hind legs to look and listen. He will sometimes walk on his hind legs. When at the shelter he was always on his hind legs trying to see and hear things. Not alwyas supporting himself either. Just up on his back legs his front paws in the air. He does this a lot.
3. Knows one of my roomates knows nothing about dogs and takes advantage of him. Marks in his room, plops down on his bed, steals his socks. My other roomate came from a family that raised Vizlas, and around him (and I for that matter) he is a very obdient dog who looks up at us wanting to know what we are going to do next (unless we plain ignore him).
4. This dog must be monitored at all times. He doesn't need constant attention but knows when you are "with" him. If you give your full attention to some task , virtually ignoring him, thats when you trun around and find him eating something he shouldn't, etc.
5. He has something of a bark, but when left alone in a room in his kennel for 25-30minutes he lets rip the stangest assortments of sounds I have ever heard come from dog. Whining, strange barking, a sound ive dubbed the "yawp" that sometimes morphs into a howl-like sound.
6. Being alone is this dogs worst nightmare.
7. Learns very fast. will repeat 2 times, maybe 3 and then he will do it when he feels like it.
Herding Traits:
1. Nips heels ( the roomate he is harassing)
2. Watched him subdue the neighbors pitbull puppy, using the dogs harness, deftly flipped him and pinned him down with his butt
3. The classic collie stalk and stare has been observed once.
General:
1. Loves affection
2. food motivated
3. This dogs runs really fast
4. Ok with other dogs, but will bolt at small animals...mainly birds, haven't encountered any cats yet.
5. Does not like loud noises.
6. young 1 year 3 months.
7. willfull dog
8. If your "no" is too firm he becomes frightened.
9. 25 pounds right now but underweight? I can feel his ribs.
10. Velcro dog
My main suspicions regarding Basenji blood is the hind leg standing and his ears. Regardless, I think I'll get him tested, even though opinions on the wisdom panel vary. I would be interested in hearing anybody's opinion as to whether the they think the dog is Basenji. If not he has some simmilar behavior and maybe I should just train like he is? I think I will do training classes, maybe agility? I've never dealt with a dog this smart and complex before, but i'm willing to elevate my game. He is getting a tone of exercise. Frankly its kinda wearing me out! I guess it beats the TV! Any opinions or advice appreciated.
Thanks!
-Steve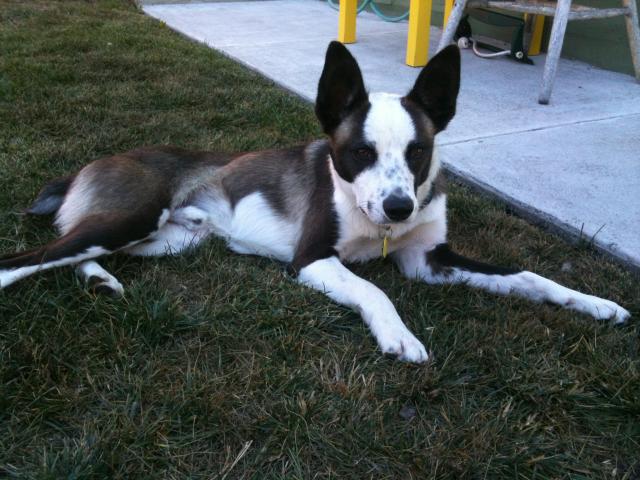 last edited by