:)Hello Tanza, Janneke, Renaultf1 and Basi,
Thanks for your welcomes and comments about Eesha. Having never owned a Basenji before or known anyone that has, I didn't realise she had unusual neck markings.
We got her from a breeder in the East of England about 2 hours from where we live, when we got there, there were three puppies left (i would've had all three if my fiance wasn't there!!) But Eesha was so mischievious from the first time we visited her thatI knew she'd be joining our family.
The breeder showed us the mum and told us the dad would be there the next time we came to visit, he wasn't and we asked to see him, then the breeder told us he was in the garden, but we could only look at him through the window?!?! The breeder seemed very nice and helpful the first time, but this time he was acting so stragley. Also the conditions the puppies were being kept in weren't very nice, I really did want to take all three puppies away from him.
We had fallen in love with Eesha, so took her home, so she is not a pedigree.
Do you think she is full Basenji or does it look to any of you that there's something else in with her?
She's a wonderful puppy and so loving, I wouldn't swap her for the world!! I just wish men like her breeder weren't allowed to breed dogs if they can't look after them, it makes me so cross.
I have read some stories online about various diseases Basenji's are prone to, is this something I should be taking precautions about or getting Eesha checked out for?
She has obviously had both of her injections now and been microchipped, but we have been to two different local vets in the East of England and neither seem to have very good knowledge of Basenji's.
I did a lot of research on Basenji's before we got Eesha, but I am hoping you will all be able to give me some advice as I see from your profiles, a lot of you are very experienced in Basenjis.
Ok I will stop rambling on now, before you all fall asleep!!
I've added a few more pics too,
Thanks again,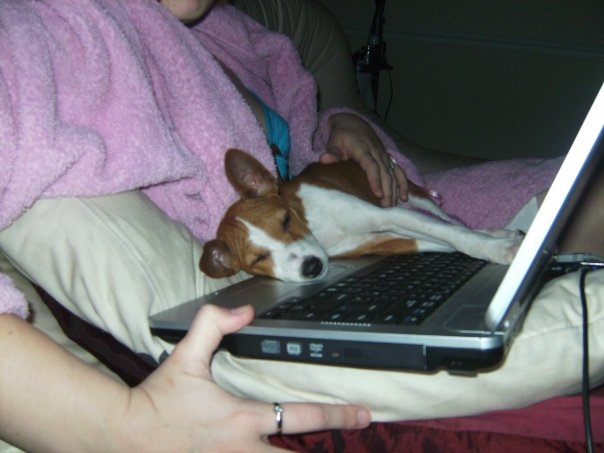 last edited by