Ok, a few more... I refer to us as Jengo's Monkeys because we were the opposable thumbs he was missing, but he figured that out fast and began our training immediately. "Hey monkey, open the door." "Hey monkey, take me for a walk." "Hey monkey, get me a snack." Lesson one happened on our way home with him in the RV. Karen and Chuck had driven him North to their home the previous day and said he traveled well in the crate. Perfect. He had something different in mind during our drive home. He whined and cried almost immediately, then he peed all over the inside of the crate and paced through it. No problem. Slight accident. We pulled over, pulled him out, cleaned him and the crate, replaced the newspaper, then put him back in and hit the road again. Not long after... he did it again. Then again. And again. We finally got the message and just let him hang with us. Whining and peeing stopped. This is my son sitting with Jengo at the crate during the the ride home...
When we arrived home I carried him to the backyard to do his thing. He ran around a bit exploring the new space as we watched. Then he walked over to a chair, jumped in it and curled up in a ball. It's almost as if he knew he was in his place... outside. Wait, what? You can't sleep out here. He slept in the crate in the house for that first night because boy did he stink! The next morning we took him to the dog wash. Several scrubbings late he smelled so much better. Still took almost a year to get his coat soft and shiny again and for the fur to grow over the wounds that had been shaved. While he lived with us he NEVER slept outside. Always in the house and more often than not... on or in the bed. A boy and his dog...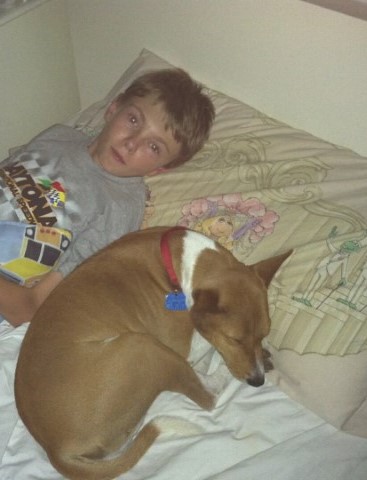 Karen warned us about Basenjis and cars. Fatal mix. Still Jengo just loved running free. It fed his soul. You could see it in his demeanor and eyes immediately. We were really careful about where we unhooked him. This has to be one of my absolute favorite pictures of him. It illustrates joy like no other...
and one more...
Behind our neighborhood is a county park with long bike/hike/horse trails. We use to walk Jengo there pretty much daily unless it was pouring rain, flooded, or blistering hot. There were flocks of turkey that inhabited there. Jengo loved finding feathers. He'd pick them up and carry them home without destroying them...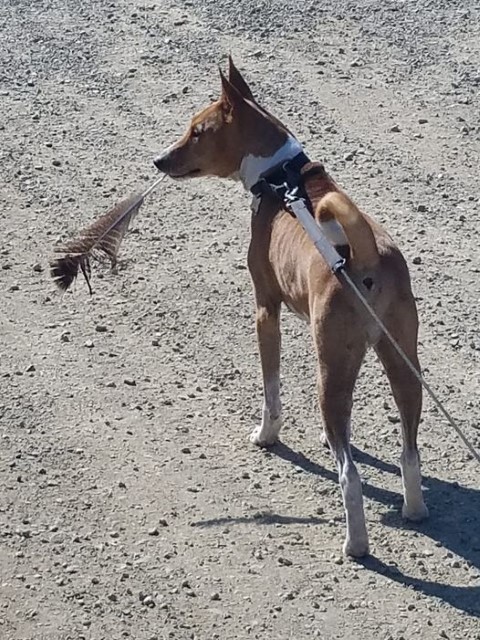 last edited by JENGOSMonkey