I sort of talked about some of these in the introduction thread - but thought it might be fun to hear about everyone else's dog.
My dog is a basenji mix and I was wondering how common some of these behaviors were. Talk to me about your dog!
Favorite toy is another dog:
Definitely yes. She will play with toys and will play with other dogs with toys - but loves to play with other dogs. She loves people (ok - only certain people are allowed close enough to touch her) but she loves other dogs. She plays pretty rough with my other dog (a Jack Russell) but the JRT seems to do just fine and is pretty rough in return. They both back off if it gets too rough and it is definitely play.
While playing chase, biting the back legs of another dog:
My dog does this every time and pretty much relentlessly with dogs larger or the same size as she is. Interestingly, she does NOT do leg or neck bite when playing with much smaller/impaired dogs such as my brother's Maltese or a friend's elderly Scotties. She mostly plays with these dogs by letting them chase her.
While playing chase, biting the neck of another dog:
Same as above. This one is weird to me as I don't know if I have had a dog before that played by biting the neck.
Tunneling under covers/covering up without assistance and playing under the covers:
Yes, and my other dog does not know how to do this. Sometimes the Basenji mix does this and then play attacks the other dog from under the covers - either shooting out from underneath in a surprise attack or going under the covers and then attacks through the comforter. She has also covered up the other dog and then attacked her covered friend. My bed does not stay made for long.
Long distance pounce on another dog:
Yes, and I'm not sure if the JRT (my other dog) dislikes this or the back leg leg biting more. I know the JRT really is not fond of the Basenji play attack pounce where B launches from 3 ft away, landing on a napping JRT - and I can't say that I blame her.
B mix used to do the sleeping attack as a puppy but I think the JRT straightened her out on actions that were going to cause immediate dismemberment
Threading the needle when B500'ing:
By this I mean, squeaking through at high speed very tight spaces without knocking over anything. My dog likes to dive through the arm of the couch, under the sidetable without smashing into the table legs or the shelf under the tabletop. It's like she is playing a live action video game where extra points are awarded for difficulty.
Boxing with front legs:
Yes - tends to do it as an invitation to play. This is just about the cutest thing ever to me.
Playing fighting on her back:
Yes - She often plays on her back, either wrestling with the other dog, playing with a toy or with me. She uses all 4 paws to manipulate the toy or dog closer or push them off.
When playing with a toy, she does not do the neck shake/snap:
I am used to seeing neck shaking with the terriers that I have had and the GS, but I have yet to see the B mix do this. The JRT is a big toy neck snapper and demonstrates this behavior all the time - but the B mix is not into imitating her. The B mix killed a ground squirrel, but I came across the aftermath and did not see the act.
If I had to guess how Basenji's hunt by the way my dog plays, I would wonder if the Basenji's did not mostly kill by tripping up prey, pouncing and neck biting without a neck shake.
Some pictures of playing: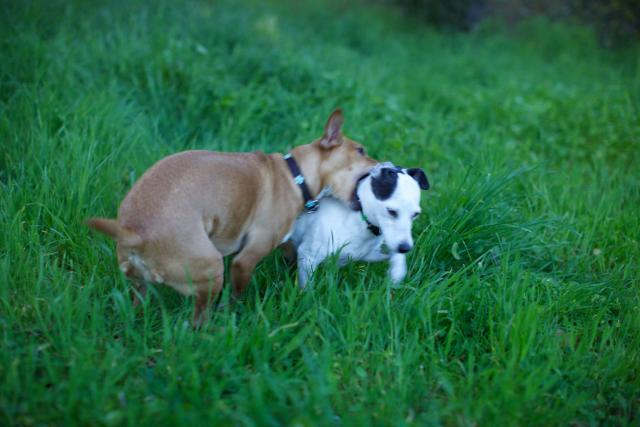 last edited by