This is my 2 year old, Jack Russell/ Basenji mix, Auddi (Audderz fro short). One day in June, 2 years ago to be exact, this precious little girl,who was only about a pound and could fit in your hand, wandered into someone's yard, and they brought her into my sisters work, who is a vet. They treated her for ring worm and flees, and no one at my sisters work wanted this precious little gift. So she called us, because we had been looking for a puppy for our kids. Needless to say, we fell in love with her at first sight. We almost lost her in September, 3 months after that due to her contracting the virus PARVO. Luckily we caught it just in time, the vet said 2 more days and she would of died of dehydration. and we also found out that she was only 3 weeks old when we got her, which was sad because she never got to know her mommy apparently.
Since then shes always had issues with being sick and having an upset tummy, and she doesnt like her belly rubbed too much. But other than that, shes our princess, and she's so spoiled and so amazing!.lol
We just recently found out (Wednesday) that she is part Basenji, and not a Chihuahua/ Jack Russell like we thought for the past 2 years. I took my kids to the pound to look at the puppies, and they had the Chihuahua Basenji mix there, and it did look alot like her, but there was still something missing that i couldnt put my finger on. so i did a little research when i got home and just out of whim typed Jack Russell Basenji and the dogs that showed up looked EXACTLY like her, like they came from the same litter almost!lol. im so exstic to finally know a little bit more info about her, so well know what shes like in her older years. I would suggest anyone to get a Jack/russell Basenji mix, especially if you have very energetic kids. Shes sooo hyper but so cute!
Thanks for reading feel free to ask any q's if need be!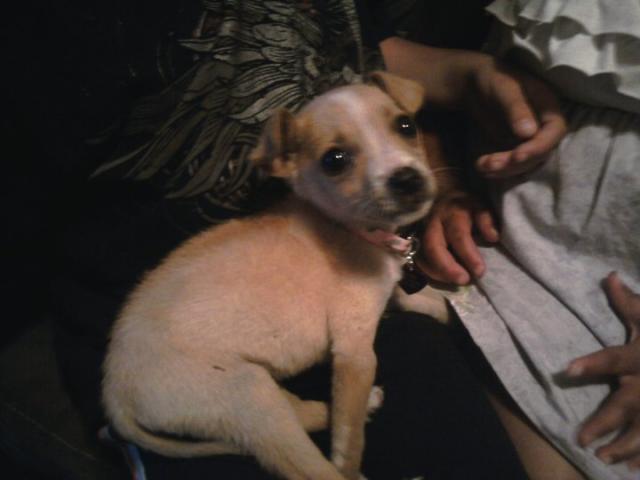 last edited by