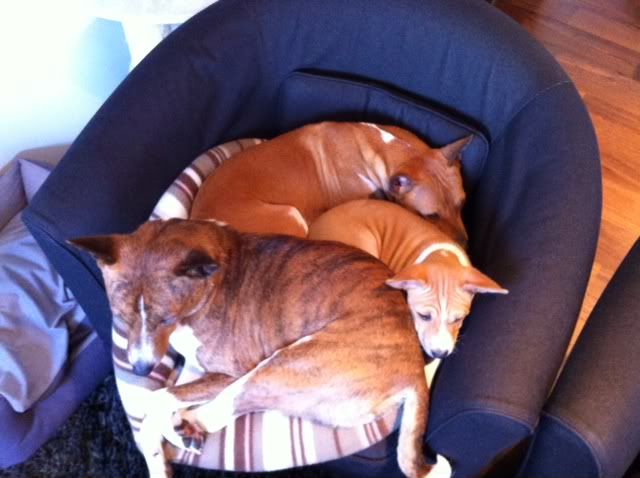 It's going great with our little girl…
She is a real genius, I had a whole plan for training her the bascis, one at a time, repeat it a few days untill she knows them etc..
But she drwas her own plan!
She is with us for a week now and three days ago I started the training.. first of all.. "sit" after three times she did it..
Always nice, but first have to see if she keeps knowing it

She does...
I almost can't keep up with her intelligence!!!
Every day I introduce a new command because she is so ready to learn a new one each day..
At this moment, she knows how to sit, to lie down, to stand, to go low (when she jumps) and to wait (Ican walk away for 4 meters already)!
Rest of this week, I won't treach a new command but I will repeat the training and use the commands in other training (showtraining, she really loves it, she knows she is a pretty princess :D)
The boys were fast in training and also loved it but Enya.. she blows my mind!
I practise three times a day for 10 minutes each and she just loves it, she is so happy being "at work" with me

Since a year or 2 we use the new positive training methods, (calming signs, boy languages, no corrections at all, guidance and respect)
With the boys we still learned at the puppietraining to give a little pull at the leash when they pull it and take a little "bite" in their neck when they are doing someting wrong but that is not the way we like it.. (we don't like dominant training like Cesar is using and with our boys we did prove that also with a Basenji, you can train totally without correction or dominance)
So we start the new methode with Enya right away and they did so well at this, and I really liked it to start this way with Enya from the first day.
I can recommend it to everyone
last edited by