This is not my dog, I found the ad on craigslist. I don't know if she has been found yet.
http://richmond.craigslist.org/laf/2225914990.html
$100 REWARD for any information leading to the return of a family pet who has never been loose in her life and escaped because of a wind damaged fence. Have you seen her? Olivia is 10 years old, weighs 18 pounds and stands about 13 inches high at the shoulders. She is brown with white blaze, collar, socks, and belly with a curly tail. She is wearing a pink and line green collar with a dog bone patterm. She has her AKC# tattooed on her inner thigh. She does NOT bark. Very timid and may growl and try to bite if frightened and cornered. Please do not try to capture her. If sighted, please contact us at 804-272-3648.
Update 2/22/2011 Olivia was seen in the vicinity of the Holiday Pet Barn on Midlothian Turnpike, west of Johnston Willis Drive.
?Location: Robious Rd/Bon Air
?it's NOT ok to contact this poster with services or other commercial interests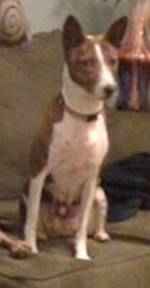 last edited by