I recently noticed Kiro leaping into window sills and balancing herself….
even in the smallest windows she was just dying to get in....
I found this in my basement.... My uncle used it for his cat, i put it up (praying shes not heavier than the cat hense the box underneath incase it falls) and she in it all day long! so funny!!! she even falls asleep in it!
I really think, that she thinks, that shes a cat!!!!!!!!!!!!
If you B is a window lover and below 25lbs you may want to consider one of thease
my little kitty cat!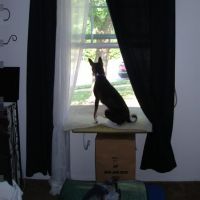 last edited by