Hi all!
Our 6 month old boy, Loki, seems to have forgotten how being crated works. (Apologies in advance for the long story.)
He was accustomed to being in the crate for 4-5 hours at a time 3 days a week, when my fiancee and I both worked. However, my fiancee was laid off from his job about 3 weeks ago, and so Loki has had almost constant company in the house for that whole time, save for a couple of short trips out to dinner, the store, etc. per week.
Tonight, we tried to put him in his crate when we left for dinner. We have not been able to train Loki to walk into his crate of his own free will, so we have always had to pick him up and insert him into his crate. He's never thrilled with being in the crate, but he has never fought the way he has begun to fight this last week. I am not physically strong enough to get Loki in his crate when he fights - my fiancee has to do it. Tonight, it took us 10 solid minutes to get Loki into his crate, and we were able to only when he literally had to be -thrown- into the crate and the door slammed behind him. He struggled against us so forcefully, I'm afraid that he's going to get hurt the next time we have to crate him.
I should note that Loki was crate trained to sleep overnight when we had first gotten him, but he sleeps in our bed with us at night. He has always been crated when we've been gone. Putting him in a pen when we're gone is not an option, because we're renting a townhouse right now, and I can't risk him escaping and destroying the carpet, blinds, etc. He has also always exhibited some separation anxiety. If he watches one of us leave the house, he cries and sprints around for almost 30 minutes after we've gone. If I gate him downstairs with my fiancee and then run upstairs, even just to grab something quickly, he paces and is visibly upset until I come back down.
What do we do? Has Loki forgotten how to be crated? Do we need to go back to puppy square one and start leaving him for 30 minutes at a time? I've also read on here about maybe giving him a Kong with cream cheese only when he is in the crate so that he associates the crate with a treat - should we try that next?
If needed: Loki is 6 months old, was just neutered last Thursday, and comes from Julie at Marjani Basenji in Virginia.
Thanks in advance!
+M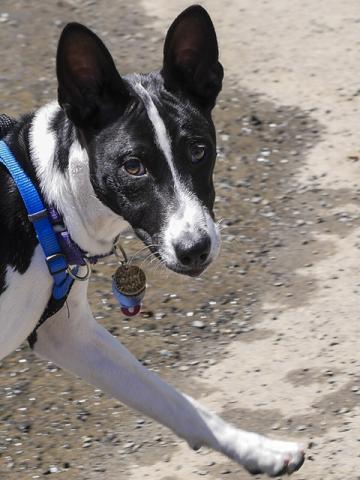 last edited by