Hello!
I haven't been around here for too long, so I wanted to introduce myself again to the people that dont know me yet, or my Basenji's
I am Kim, 27 years old and originally from Holland but sailing at a big ship from Rotterdam (NL) to Antwerpen (B) tansporting containers.
It has been a hectic time because we are just moved into our new ship.
Since three weeks we are living and working at our new ship but we are busy with it since February!
We are owned by three basenji's Buana (red and white, 6 years old), Chafuko (brindle 4 years old) and Enya (red and white, 8 months old)
And not to forget our son Ryan (2009) birdy Kip, black cat Spaiky(2004) and bengal boy James. (2010)
Since Juni 2011 we have our kennelname Kwa Banduru's (Swahili for "From the good ship")
Buana and Chafuko, our boys are coming from Holland (Toka Kilima) and Enya is coming from Sweden (Yulara)
Enya is half Africal and all of them are very very sweet and naughty
I am working on a few new study's so we can stop sailing in about 2 years and g and work with animals (finally… :))
I do have a diploma for vets assistant but our heart lies with behavior and energetic health (reiki) so we are busy with some new extra study's.
At the beginning of August we will be hearing if we are going to be guest family for mistreated/ neglectic dogs to guide them untill they are healthy and happy enough to move to their forever home

It is a little start and a big dream we already can fullfill while sailing
Hopefully I will be able to keep up with the forum again and see all your beautifull Basenji's
This is our pack: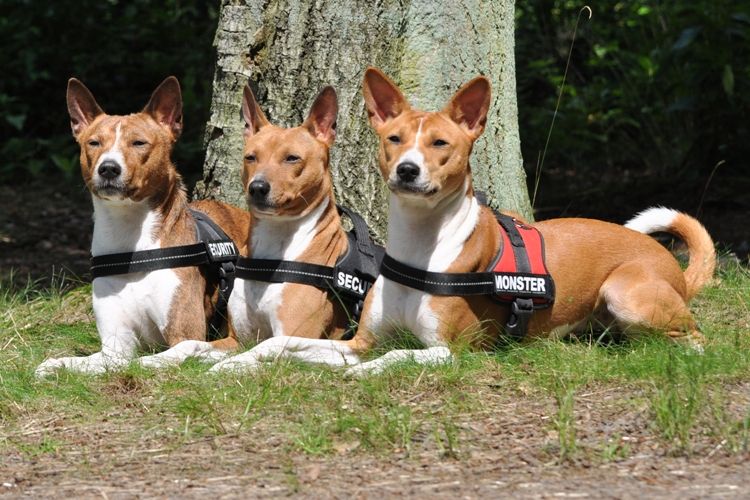 last edited by