Just a little question I've been thinking about.
Our boys are very well behaved when it comes to show training.
At home, outside and even on places other dogs are they listen very good.
But when we are at a show and they see other Basenji's, they become a bit crazy and want to go to that Basenji (play, smell them)
We always practise before the show starts or the judge arrives and most of the time they behave well when they have to show.
It just looks like they sometimes put a big banana in each ear and forget there are people around them.
But I always think they can do a bit better..
I don't know how to practise that because we would need a lot of Basenji's to pracitse…
We let them smell and play with as much as Basenji's as we see before the show starts but that never are all the B's..
If somebody knows a good suggestion or a idea... please let us know!
Below are two pics of Buana, one during a training and one during the show..
You can see the difference.. (the one taking during the show was after the placements, so Buana was a bit more easy going because he already smelled the other Basenji's)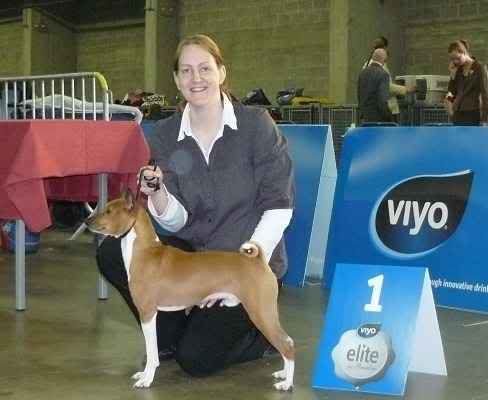 last edited by