I brought Caesar home as a puppy 6 years ago and purchased the typical babygate with the crosshatching material. In about 30 minutes (when I left the room for a second), Caesar had used the crosshatching to climb over and conquor the gate!!
I have an excellent baby gate now that even Caesar can't beat! It is called "The first years" and is made of white aluminum and has a step button on the bottom that opens the gate like a door. I purchased it from a Babys R Us or one of those baby stores when I realized all of the ones at the pet stores were no match for a basenji. No major installation is required and it is a tension gate and easy to get a vaccuum over.
Here is a pic of the crummy gate and the good gate. I have used it for over 5 years now and he can't jump over it or press the step button with enough force to get it open…..
I dont know if you want to make this a sticky and other people can add their favorite products to the thread as well.....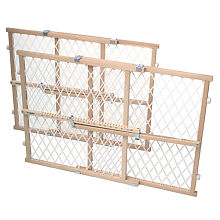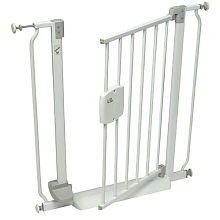 last edited by