This is pretty cool, I just got this from my breeder friend Susan (Apu Basenjis) in NY. Below is her message and see attached pics. These are 2 of her 9 Basenjis.
**These are iPhone photos taken at the Hudson Valley Senior Residence. Scarlet & Fern are now licensed Therapy Dog International therapy dogs. They are with Henriette, a favorite of mine, who is 97. They're supervising the nail polish clinic.
Shortly afterwards, Fernie stole a stuffie from the Bingo prizes, and was told she could keep it.
Later on, in the hallway, the woman who is sitting behind Henriette stopped and asked me if the girls liked coming there.
Answering her own question, "Of course they do, they get all the attention."
Adding, "now you get the inmates's version. Life here is dull, the same day to day, and your visits with the dogs brighten our lives, especially the dogs, more than you can ever know."
**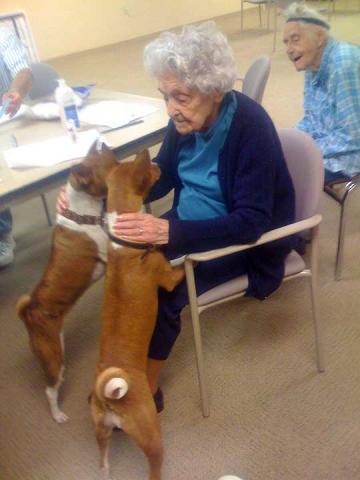 last edited by