Hi, I have two male basenjis, Taco is about 14 months old, Ghostface is 5 months. They are good pals, sun bake together, run up and down the yard, they respect each other's space at food time, they play well at parks. Both are reasonably obedient, at least, as obedient as I except a B to be.
However, they both get snarly with the other when they are on the couch and the other approaches. Inside, they have access to a 2 seater and a 3 seater couch, plus their crates to sleep in. They prefer the couches and that's where they sleep at night.
If Ghostie is sleeping, or awake but laying on the couch, Taco will jump up and lay down next to, or on top of Ghost. In return, Ghost will snarl and bite Taco, Taco loves the response and wags his tail, sometimes play bows and bumps Ghost with his butt before laying down and then they both settle.
If Taco is on the couch first though, his aggression seems to be up a notch from Ghost's and instead of finding it funny, Ghost scares and often goes outside to a bed. I'm worried that Ghost is scared of Taco and that when he grows up and can fight back a bit better, they will hurt each other…. At the moment their fights are fairly noisy but light, no blood, barely ever a yelp, but I sense Ghost is sick of it and feels a bit lonely when he can't lay down with Taco. Any ideas how I can render them both calm?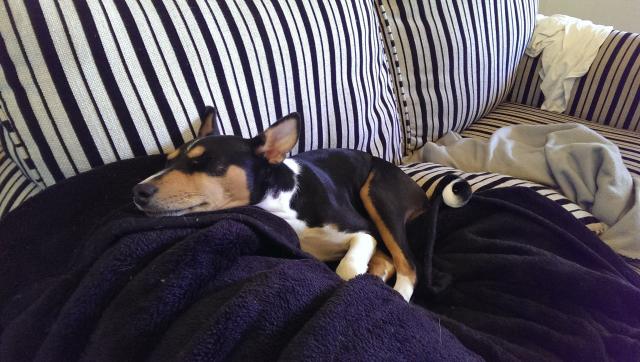 last edited by