Annie is a sweet girl with lots of energy.
http://www.basenjirescue.org/DOGS-MIXES/TX/TX-Annie.asp
She is very social, and like many a good Basenji she is also very stubborn! She is very energetic and needs regular exercise. She will require an owner who is as energetic as she is (as well as super patient)!
She loves to play with toys. She gets bored easily and will be destructive when she is bored - which is why I have learned to leave her lots of toys, inside and out. She loves to be outside and would do well with an outdoorsy person. She is very affectionate and loves to snuggle.
Annie is a little too rough with my small dog, but would do well with medium/larger dogs and older kids as she loves to play and wrestle. She can sit on command and is very motivated by treats. Once she gets to know you, she will be very protective of you and your home - she definitely patrols the house and yard. A 6-foot privacy fence is a must or else she will escape. Annie is a climber (and a high jumper) - I've seen her climb stacked boxes and a dog gate is no match for her.
Annie is very affectionate and loving and has a great personality. When I rescued her, it was always with the intention of finding her a home - I have fallen in love with her! But I know Annie deserves an owner who can love and appreciate her and give her the active life she deserves. If that home could be with you please e-mail: zinagonzales@sbcglobal.net
This is not a BRAT dog. Please note that BRAT has not evaluated this dog and expresses no opinion as to the accuracy of the information contained on this page. This dog's placement will be a private adoption between this dog's current owner/shelter and the adopter. Please be sure to investigate thoroughly all aspects of this possible placement, including the suitability of this dog for your personal situation. By proceeding, you hereby release BRAT from any liability in connection with this dog. BRAT is posting this information to assist the owner/shelter in their placement efforts.
–------------------------------------------------------------------------------
basenji_mix: Yes
call_name: Annie
dog_state: TX, San Antonio
registered_name: Annie
dob: unknown
gender: Female
color: Red
weight: 24
spayed/neutered?: Yes
healthy?: Yes
parvo: Yes
parvo_date: 11/6/2010
rabies: Yes
rabies_date: 11/6/2010
bordetella: Yes
bordetella_date: 11/13/2010
heartworm tested: Yes
heartworm_date: 11/13/2010
is the dog on meds?: Yes
list_meds: Heartguard Plus heartworm prevention once a month
heartworm_last_given: 11/13/2010
have rabies certificate?: Yes
is the dog tattooed?: Yes
micro-chipped?: Don't know
dog eats?: 2x day, Both wet and dry food
dry_food: Beneful
wet_food: Beneful
food_dislikes: None known
favorite_foods: Everything! Loves treats
how_to_feed: 3/4 cup of dry food 2x day. I will sometimes mix wet food with 1/2 cup of dry food
dog begs?: No
temperament: She was very timid at first but has acclimated well. Annie is very social. She is also very stubborn!
lived with kids?: Don't know
likes kids?: Don't know
lived with cats?: Don't know
likes cats?: Don't know
lived with dogs?: Yes
likes dogs?: Yes
likes both men and women?: Yes
likes strangers?: Yes
nips?: Yes
bites?: Don't know
crate trained?: Don't know
sleep_spot: During the day, she sleeps outside in a doggy bed. At night she sleeps with me and my other dog or sometimes will sleep in her inside doggy bed
housebroken?: Annie is almost housebroken - she is still learning but has been pretty successful in the short time I have had her.
house destructive?: Yes
destructive outside?: Yes
climber?: Yes
escaper?: Yes
startles easily?: No
wakes up badly?: No
rides well in car?: She is nervous in the car at first but she eventually relaxes and enjoys the ride.
gets carsick?: Don't know
rides in crate?: Don't know
yodels?: Yes
screams?: No
list_anything_else: She can be territorial (with the yard) and will bark when she hears people around the fence. I found her as a stray and took her in. She can be very sweet but also sneaky.
owner_name: Zina Gonzales
email: zinagonzales@sbcglobal.net
months_owned: 1
placement_reason: I took her in as a stray.
placement_deadline: 12/31/2010
dog has a crate?: No
advertised dog?: Yes
advertising_places: Just to family, friends and coworkers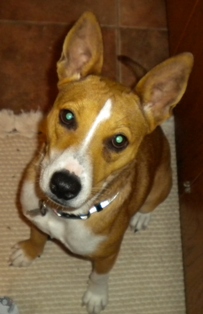 last edited by