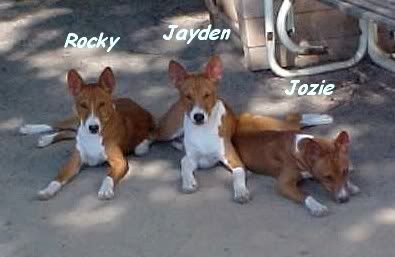 Your name: Robyn Dubbert
Your city, state: Austell, Georgia
Your phone number: Contact by PM for phone number
Basenji(s) For Sale: Rocky and Jayden
Age of Basenji(s): 6 months
Current weight of Basenji(s) for sale: about 22-24 pounds
Weight of Basenji(s) parents: both about 25 pounds
Parents health tests: hips OFA, eyes CERF'd
Registration if any (AKC, Basenji Clubs, etc): AKC
Price: $500-800
Age when puppies will be ready to be taken home: now
Do you ship your Basenjis: too hot
Rocky and Jayden are 6 month old brothers who need new homes. Their sire and dam have hips OFA'd, eyes CERF'ed normal (2007), strip testing clear of glucose, and will be having the Fanconi DNA test run soon. These boys have been raised as housepets and are pretty much housetrained. Neither are thrilled about being crated but will accept it. Both boys have gone to show dog training classes but I have not done obedience training with either. It's too hot to ship so adoptors will have to come to Georgia. Further information can be found on my website, questions welcome.
last edited by