I am cross-posting to help Yachtz find a home, he is still in dire need of a loving home to live out his years.
A number of BRAT volunteers along with other rescuers and kennel staff have been working diligently to try to find a safe harbor for this sweet boy for more than a month now. Please read his story and consider opening your heart and home to him if you have a spot. If not you, maybe someone you know, please help us to network until we can find him, a home.
Yachtz is a sad and difficult case due to his age. He is 12 years old, in excellent health, up to date on vaccinations and sadly been in a Kennel for over 5 months now. His owner has fallen on very hard luck finding herself homeless after hospitalization and is devastated that her longtime companion now has no one to provide for him and keep him safe as he lives out his life. The local ASPC graciously stepped up and paid part of the kennel fees but that was quite some time ago and he continues to be graciously kenneled with no hope of payment. The kennel owners understand that they will never be able to recover their costs and have been absolutely great in this situation, they do not want to see Yacthz euthanized, they say he is still a vibrant and healthy mix. He is bigger than the average basenji but has the Basenji yodel and coloring. There are many volunteers that are willing to work to get him transported but we have been unable to find a rescue or adopter to transport him to. Understandably though, he needs to be out of the kennels!
According to his longtime owner,?. Yachtz gets nervous and sounds aggressive around bicycle riders, skaters of both skate board and any type of roller skates. He is also sensitive to motorcycles. He was like this when adopted in 2003 and have no idea what may have happened to him in his early years. Yachtz also has a tendency to be food aggressive with other dogs. Although he makes grumpy noises he does not have a bite history but may do better living out his senior years as an only dog or with an owner experienced enough to deal with these characteristics effectively.
Yachtz?s owner is still homeless and has been told once that Yachtz had already been euthanized, please help us to help his owner rest easy in this difficult time by assuring that Yachtz will have the opportunity to have a wonderful forever family to live out the rest of his natural life. If you have a warm spot in your heart and home that Yachtz might occupy for the rest of his life please contact Ray Eckart, BRAT Coordinator. Ray is helping the owner and kennel owner to find a safe resolution for this sweet pup.
Please Contact; Ray Eckart rayeck1052@att.net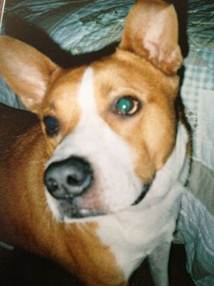 last edited by