This is not my dog. This is a craigslist ad. The dog was last seen Oct 7th.
http://washingtondc.craigslist.org/mld/laf/2099867677.html
If anyone has seen a 20 pound male basenji dog (see photo) with a white tip of the tail, please let me know. He was last seen in Kensington at 11pm 10/7/10. He got off his leash and has no collar. He has been to Chevy Chase, Bethesda, Rockville and now Kensington. He could be 10 miles from Kensington at the rate he can move as of this posting.
He won't bite but is very hard to catch. He's sweet but fearful. We've had about 7 sightings from the flyers we've put up.
Respectfully,
jim
?Location: Kensington area
?it's NOT ok to contact this poster with services or other commercial interests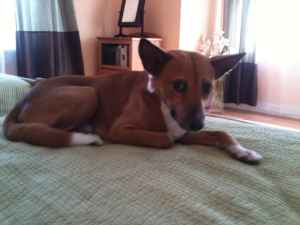 last edited by