gene
Recent Posts
posted in Show Off Your Dog • read more
heres my BASENJI ;Dutchess Ann ,
THE CUTEST, BASENJI EVER!!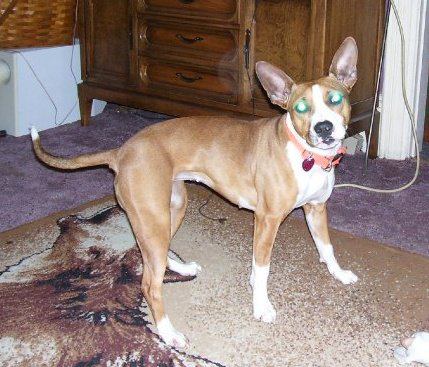 posted in Basenji Talk • read more
last winter I was walking my Basenji mix? "Dutchess" with a friend and his 5yr old daughter we were at the top of a small sloping hill
( snow covered) when suddenly,
my dog starts to rub her butt on the ground (like dogs do on the carpet) , THEN ,DUTCHESS LIFTS HER FEET UP AND SLIDES DOWN THE HILL ON HER BUTT ABOUT 20 FEET ! WAS THE FUNNYEST THING IVE EVER SEEN A DOG DO.
THIS YEAR IM GOING TO TRY TO GET A PICTURE, IF SHE DOES IT AGAIN.
posted in Show Off Your Dog • read more
hello, I also need a expert basenji owner to help me figure out if I have rescued a Basenji (she is a little bigger than other pictures I have seen, and her tail isn't curled up )
She is the strongest dog for her size I have ever experienced, She hates the rain or when I use the garden hose she runs away ,she loves to run and jump up into me when playing ruff, is also very clean ,licking paws when dirty, very little shedding, cant be trusted off leash around wild animals, has caught squirls from sheer speed outrunning them.