RE: Didn't know what I was getting into but I guess now I'm stuck.
First off, you had a challenge placing a Basenji with other breeds, not a common choice among the educated Basenji enthusiast, but also not an impossible one. You must become part of a Basenji's pack in order to get his respect. This takes time. The training of a Basenji must be as strict a regimen as you can imagine. They will almost never be good off the leash and they will forever pay you back for crating them if the other dogs are not also crated….this means lots of walks, long ones, as exercise is a huge part of the bond you will ultimately form with a B. And it's more than worth the effort. Crating is dicey subject as many owners insist on it, I have never been able to crate either of my kids (Pipet - my first is 9, Diesel - my 2 year old Brindle was a rescue from this site now 15 months hence...and we are extremely happy) they are far too smart to not realize that you are doing it to them only (crating, that is) and they will retaliate with mischief after or during the incredible explosion of activity that comes from a release from said bondage.....very funny to watch. You've done well to not scold or slap him as a Basenji will make it abundantly clear that you scolding them with any malice in your voice, much less physical hitting of ANY kind, will be responded to with a growl, maybe a bite and certainly a warning letting you know they will never bow down.
I don't write with any particular advice as you are an experienced dog owner and it sounds like regardless of his behavior you are in it for the long haul. You won't regret it. I recommend that you watch Basenji videos on Youtube and converse with anyone who has had this experience - I'm stunned that you have had no replies! In any event, don't feel like you're stuck, you are blessed. If you, or one of you takes the time to be this dogs person (as we never own Basenjis, they own us) and so long as you utilize uniform commands and never stray from using them, within about two years you will have an amazing animal that seems to be linked to your inner most mind, soul and heart. They are loyal, they are great guards and they will stay in their yard once they are clear that it is theirs and that this new home and you, can be trusted. I'm curious how he gets along with the other animals, especially the cat...although I'm betting the three legs would make clear to a Basenji that they are dealing with a special needs creature and go easy on her.
My adopted Brindle is becoming a miracle of a dog after having three owners in his first year. These dogs bring out the uneducated "Oh honey....THAT'S the kind of dog we should get!" reaction. I spend more time explaining to people why they DON'T want a Basenji than anything else. I am immensely prideful of my dogs and I present them like royalty to all those with interest. But I make it clear that these dogs are a specialty item. An animal of intense genius and endless energy's. Amazing, tenacious hunters that use sight, hearing and smell all at once (only a few breeds do this) and possessed of astonishing night vision, high intensity hearing and an almost psychic connection to the humans they bond to tightest. You must love them intensely and be willing to get down on all fours to join their perspective on toys, mock murder (of toys) and generally behaving like a Basenji. You'd do well to read up on their roll in the tribes of the Congo dating back thousands of years. They bring all the experience of all the dogs that came before them as genetics play a huge part in who they are and how they relate to us.
Bottom line.....the fun is only just beginning. If you can muster the will to be Basenji person then you are basically showing the character it takes to be a great animal trainer and lover....like a guy who trains Siamese Cats to run 500mph figure eights around a poo.... The fun never ends! As I've said, I offer no particular tricks...if you wish to converse further I can be more specific about a lot of things....I am at your disposal as a lover of these dogs and a very successful trainer/pack mate.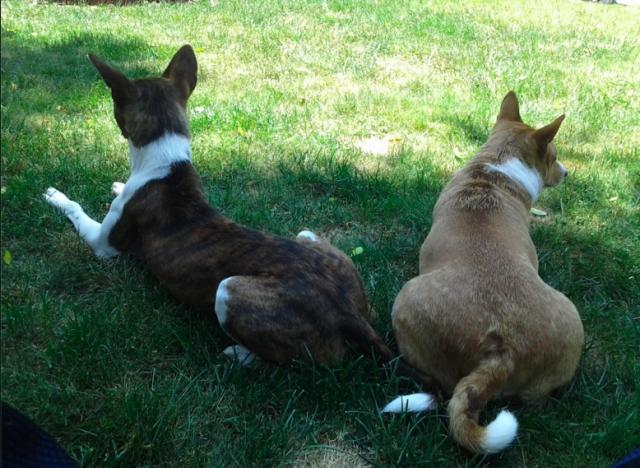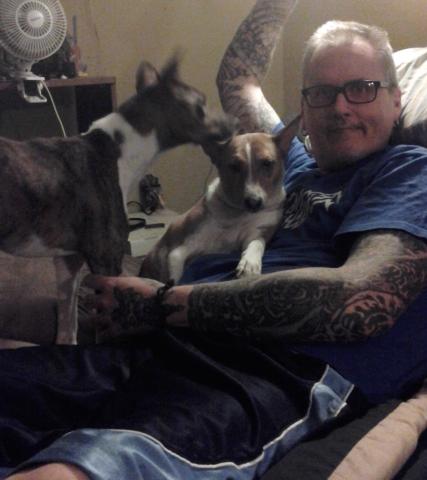 posted in Member Introductions