Welcome Azrael!
Re: [Hello](From Ontario)
Hi everyone!!
Introducing Azrael!
Born Nov 20, 2020
Came Home: Jan 29, 2020
He's awesome even when he's sleeping all day and playing all night. He's adjusting well, LOVES sitting in my lap and enjoys sleeping in his crate. He hates kibble..and the cold. We're taking walks in the condo hallways and he's gaining more confidence each day.
He has an IG page - Azrael the Basenji if you want to see any vids I post.
His parents:
Sire: CH POKER JACKPOT ALISINA ZVEZDOCHKA Sire
Dam: CH HEARTBEAT FORBIDDEN FRUIT
FYI - I didn't build the crate.
️ Too much was going on in December/January.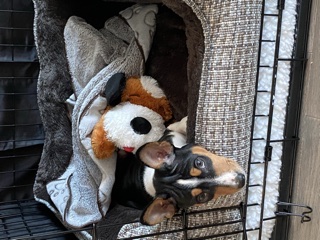 posted in Member Introductions