Basenji mix?
We adopted an amazing dog from a rescue. We were told he was a chihuahua mix. I became concerned that he didn't bark, our previous dog was a Jack Russell who had been
our family member for 15 years. He barked at himself barking. I finally looked up dogs that didn't bark, and became aware for the first time of the Basenji.
Our new beloved dog, has so many Basenji traits, he weighs 22 pounds. We have encountered several people in our local park, including a woman who raised Basenjis and told us we have a Baseniji mix. I know only a DNA test will tell us for sure.
I have gained insight from this site on the traits, that are so different from our Jack. Our new dog is a delight. He does occasionally vocalize, and will now bark, but very rarely. He grooms himself like a cat. We had a Russian Blue for 19 years, and our new dog almost reminds me of her.
He is amazingly strong for his size, and has the sweetest personality. He can leap like Superman, and is very intelligent but does things his own way, as if he first reasons things out. For a rescue dog, we were amazed by how much he already knew and kept hidden at first.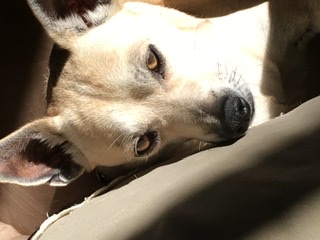 posted in Member Introductions